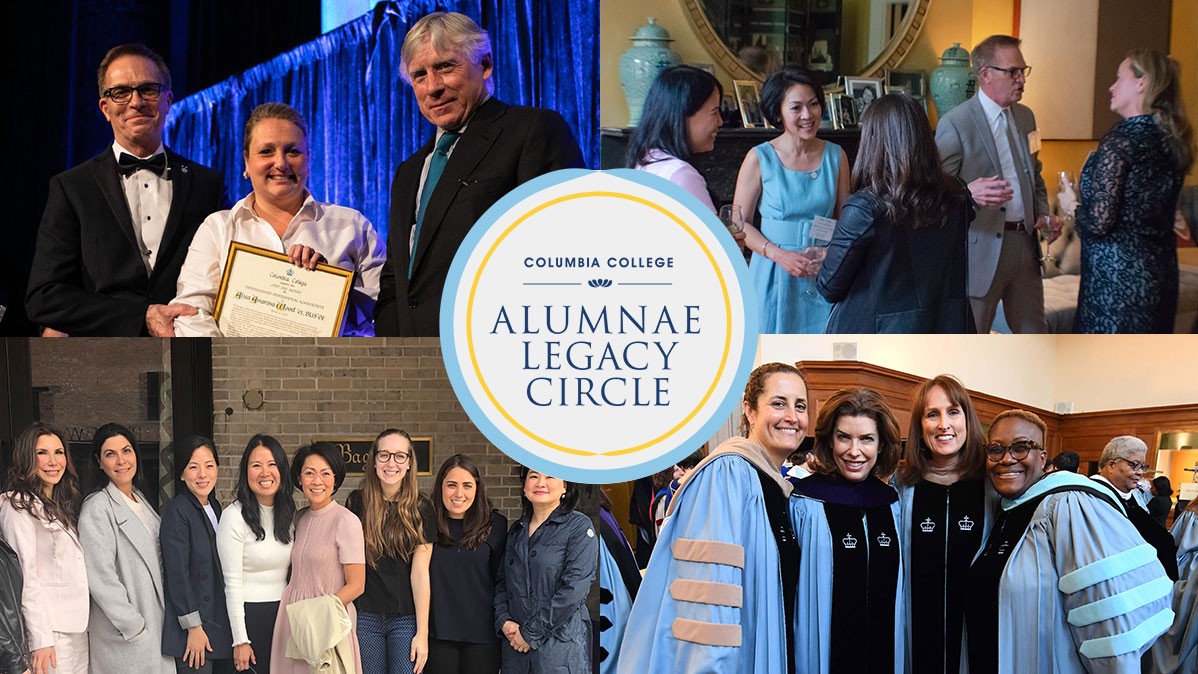 The Alumnae Legacy Circle is a leadership giving society dedicated to the collective power of female-driven philanthropy and its impact on Columbia College.
Inspired by the milestone of 30 years of co-education at the College, the Alumnae Legacy Circle aims to elevate the voice of women at Columbia through increased alumnae leadership support of the Columbia College Fund.
Prior to the founding of the Alumnae Legacy Circle, alumnae giving had comprised only 25%, on average, of Columbia College Fund Dollars.
Now, with the collective support of its Founding Members, the Alumnae Legacy Circle is beginning to close this long-standing philanthropic gap. Cumulative giving to the Columbia College Fund by the members of the Alumnae Legacy Circle was more than $1.5 million dollars in its founding year. As the circle expands, this community of dedicated female leaders will bolster the alumnae presence at Columbia College and leave a lasting legacy for those following in their footsteps.
We invite you to join the Alumnae Legacy Circle with a meaningful leadership gift to the Columbia College Fund and a pledge of continued leadership support. College alumnae from the Classes of 2004 to 2018 may join the Alumnae Legacy Circle with a comparable philanthropic commitment to the Columbia College Fund, payable over 3 years. Your gift has the power to make a strong impact on the lives of Columbia College students.
Membership in the Alumnae Legacy Circle includes:
Opportunity to fund a named scholarship at the College and meet the student recipient at the annual Dean's Scholarship Reception.

Recognition in the Columbia College Report and on the Alumnae Legacy Circle website as a Member.

Invitation to special events curated specifically for the Alumnae Legacy Circle and other leadership donors.
Past events have included dinners hosted by alumnae at their homes, brunch at Bagatelle in New York City, a private reception for ALC Members with the Dean of Columbia College and the Dean's Circle Reception.
Members
As of April 2020
JoBeth Tananbaum Abecassis CC'07
Sarah Aibel CC'92 P: CC'23
Lori Alvino McGill CC'99, LAW'03
Kelley Buechel Badishkanian CC'98, BUS'08
Maiken Baird CC'89
Nairi C. Balian CC'88, P: CC'16, CC'22, CC'23
Sheetal Banerjee CC'89
Kyra Tirana Barry CC'87, P: CC'17
Olivia R. Barry CC'17
Stephanie Falcone Bernik CC'89
Francesca Bodini CC'06, BUS'09
Anna Brockway CC'92
Caitlin Prendergast Brodie CC'06
Leslie Gittess Brodsky CC'88 P: CC'23
Lisa L. Carnoy CC'89
Joyce Chang CC'86
Leslie Chang CC'92
Cynthia Chen CC'04, GF'14
Dehua "Wah" Chen CC'92
Germaine Choe CC'95
Debra C. Chow CC'01
Jennifer Christine Chung CC'98
Christine Cronin-Hurst CC'84
Jennifer Anglade Dahlberg CC'93, P: CC'23
Lexi Diamond CC'91
Mary Corley Dunn CC'98
Abigail B. Elbaum CC'92, BUS'94
Michele Ann Esposito CC'96
Elizabeth Weir Factor CC'91
Anna Fang-Hamm CC'04
Katrina Froman CC'88
Dorcas W. Gardner CC'90
Sarah Schrager Gitlin CC'13
Michelle J. Goldberg CC'91
Wanda Holland Greene CC'89
Diana Greenwald CC'11
Yael Halaas CC'92
Hilary R. Hatch CC'92
Maya Ho CC'18
Sandra H. Hoffen CC'87
Divonne Holmes à Court CC'87
Nina L. Hong CC'93, LAW'96
Emily Hu CC'95 PS'00
Janice Ince CC'01
Britta W. Jacobson CC'96
Michelle Estilo Kaiser CC'87, PH'92, PS'97, P: CC'20
Gail A. Katz CC'97
Alison P. Kay CC'06
Mojdeh L. Khaghan CC'88, LAW'91, P: CC'17
Sungmee M Kim CC'97
Kara Kupferberg CC'18, SIPA'19
Mary Kuo CC'92, P: CC'20, CC'21
Christine Lai CC'95
Emily Lavine CC'18
Amy H. Lee CC'94
Sunhee Lee CC'90
June Boonyasai Lehv CC'95, DM'00, ORTHO'02
Jennifer M. Levine CC'91, P: CC'22
Pamela M. Levine CC'93
Julie Levy CC'91, P: CC'21
Tina Lin CC'91, PS'96
Donna MacPhee CC'89, P: CC'17
Karen Mahoney CC'88, P: CC'19
Samara Bernot Meshel CC'92, P: CC'18, CC'23
Cindy Z. Michel CC'95 (Co-Chair)
Caroline Puri Mitchell CC'02
Cassey Morales CC'96
Juwa Nguy CC'95
Jen Maxfield Ostfeld CC'99, JN'00
Meredith Milstein Polivy CC'09, BUS'17
Sumana Rao CC'08
Maria A. Rodino CC'88, P: CC'18, CC'20
Olivia Santoro CC'13, BUS'20
Teresa M. Saputo-Crerend CC'87, BUS'92, P: CC'22
Claire Shipman CC'86, SIPA'94
Esther Sholes CC'91
Beth Shubin Stein CC'91, PS'96
Elana Drell Szyfer CC'91
Michelle Tan CC'16
Claire E. Theobald CC'88
Mila Tuttle CC'96, SIPA'05 (Co-Chair)
Mary Elizabeth Vig CC'91
Shazi Visram CC'99, BUS'04
Cecilia C. Wang CC'09, LAW'12
Sandy Wang CC'92
Lara Stolman Watzky CC'91
Ellen Weinstein CC'93
Sherri P. Wolf CC'90
Alisa Amarosa Wood CC'01, BUS'08
Sharon Yang CC'07
Christina Ying CC'89
Nina Zipser CC'94
Anonymous CC'04
Anonymous CC'01
Anonymous CC'98

Anonymous CC'94

Anonymous CC'90

Anonymous CC'89
---