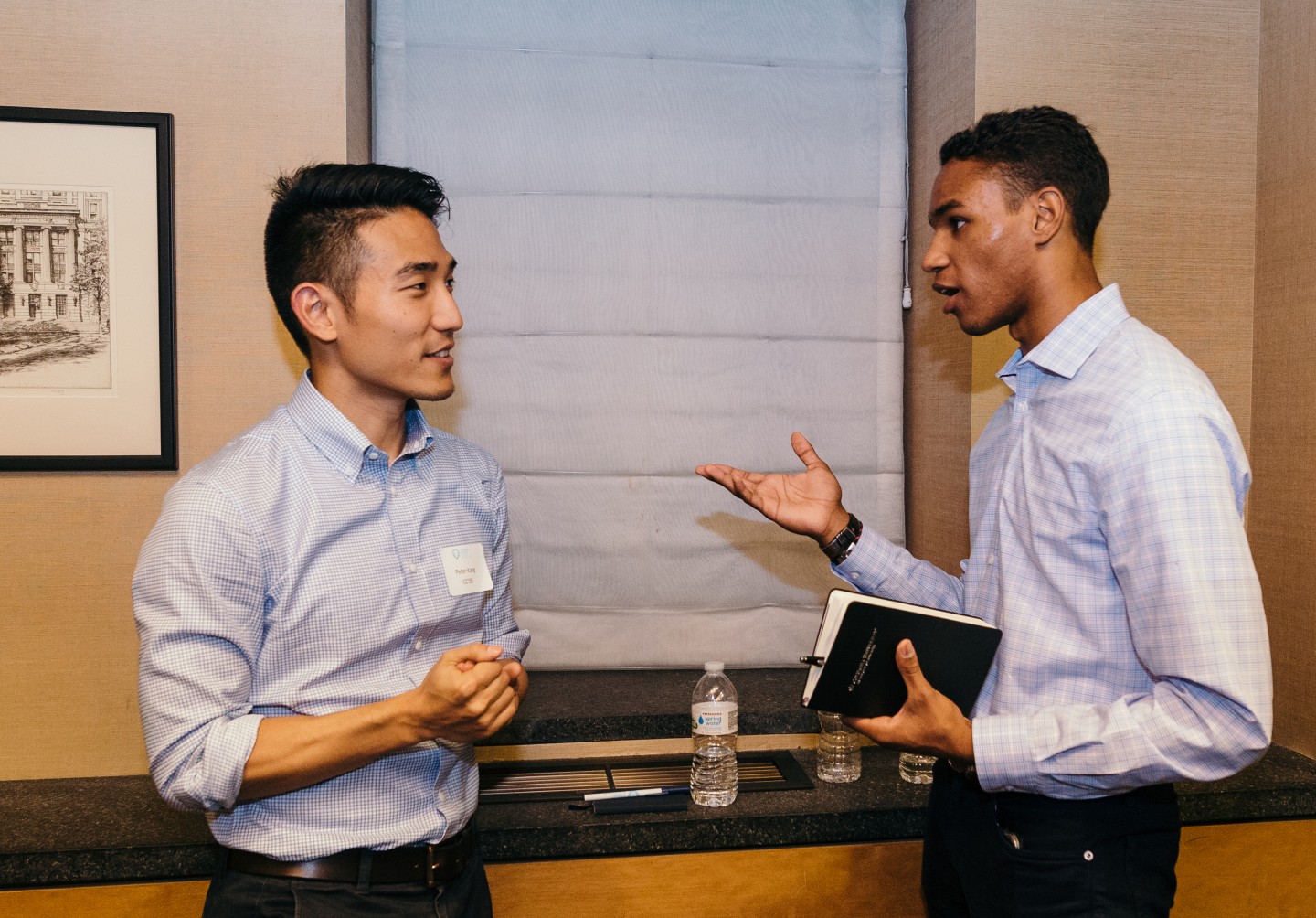 No matter where you are in your career, the term "Networking" can inspire much confusion and dread.
That's why we've reached out to someone who was in your shoes just a few years ago — Gairy Hall CC'11, BUS'16, Management Associate at J.P. Morgan — to provide a few tips on what he wishes he knew about networking when he graduated from the College in 2011.
Here's what Gairy recommends:
---
Don't be afraid to reach out.

Columbians look out for each other. You are never "cold calling/emailing" a fellow alum because you have a shared connection, which allows for a warm intro. Similarly, try to start with people with whom you have something in common — alum or not — and give it a shot.

Leverage key connectors. Sometimes you may meet people who seem to know everyone in your industry or city. These are the first people you should go to when you need a new connection. You may have a small network, but it grows quickly when you can tap into their Rolodex.

Don't just reach out when you need something. This is a big networking mistake! A professional network of connections is not a static collection of contact information and or a pile of business cards. Keep your relationships ongoing by keeping connections updated so they feel involved and invested. That way, they are not just hearing from you when you need a recommendation or help. Sending a year-end note or an email when a life event occurs is a natural way to nurture your network.

Network up and down. Don't just target executives or high-ranking professionals. You never know what your peers or someone a few years younger than you might be up to or who they might be working for now or in the future.

Say thank you.

ALWAYS send thank you notes when your connections give you their time, especially after the first meeting. Hold the mindset that the person whose time you are asking for is busier than you and respect it — and thank them — accordingly. For extra credit, offer to help them in return if you have a skill or experience that could come in handy. For example, if they have kids going to college, you could offer your own insight about applications or adjusting to college life.

Your connections' advice may not always be right. Everyone has their biases and only their personal experience to work off of, even if they have your best interests at heart. Solicit several opinions and be critical in your assessment to reach the best answer for YOU.

Don't burn bridges. Even more than that, don't end connections just because you are leaving a company, industry, or city. You never know where your career and life may go, and you may run into the same names somewhere down the road.

Maintain quality over quantity.

You can only maintain meaningful connections with so many people. Some connections will naturally fall off over time, and others you should actively churn as you progress in your career.

​
And one bonus: What networking isn't...
Socializing. You may befriend people in your network, which is perfectly fine and often common at social events such as happy hours and events. However, that may not always be the best relationship and it's up to you to understand what's appropriate and what's not.

Only for extroverts. Many social, extroverted people struggle with professional networking, and many introverts love networking. Personality types and communication styles don't define you and don't limit you!

Just for your own gain. You may "take" more in some instances, but it becomes very clear when you are only looking out for yourself and your interests.
---
Gairy Hall CC'11, BUS'16 is an Associate in J.P. Morgan's Management Associate Program, a post-MBA rotational leadership development program. Prior to joining J.P. Morgan, he was an Assistant Vice President at Citi Private Bank focused on investments for ultra-high net worth clients. Raised in Fayetteville, Georgia, Gairy has volunteered with the Columbia College Alumni Association, including serving as co-chair of his 5-Year Reunion Committee and as President of Columbia College Young Alumni since 2015.