2017 John Jay Award Honoree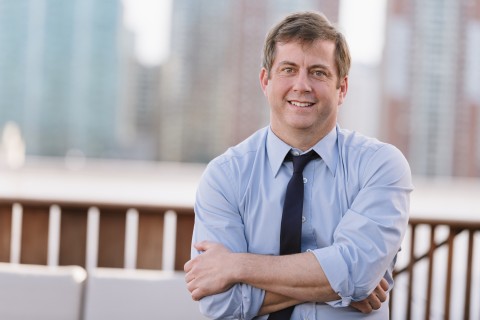 David B. Barry's pioneering work as a real estate developer throughout the New York metropolitan region has earned him respect from colleagues and critics alike. As president of Hoboken-based Ironstate Development Company, his vision has transformed emerging neighborhoods in New Jersey and New York into vibrant and popular destinations for residents and visitors.
With a portfolio of more than 10,000 residential and hotel units, Barry's creative projects have garnered widespread praise. From discovering underused sites to developing fresh living concepts, he has created numerous projects that offer urban residents appealing locations and innovative design.
As CEO of the new brand Urby, Barry recently opened a groundbreaking property on the North Shore of Staten Island. This pioneering residential concept features simple and smart design and unique interactive programming, including carefully selected local restaurants and stores, as well as social spaces and a participatory garden that supplies fresh produce for Urby's market and community kitchen.
Barry's mission to revitalize underserved neighborhoods is most evident in New Jersey, where he has focused on improving life in his native state for more than 20 years. Barry has been instrumental in reviving sections of Long Branch, Hoboken and Jersey City, to name a few, and he has given Hudson County expanded appeal as an extension of New York City.
Before founding Ironstate in 2001 with his brother, Michael Barry '89, Barry was an attorney at Dewey Ballantine after graduating magna cum laude from Georgetown Law. At the College, he was a history major and first team all-Ivy wrestler, and he has continued to pursue his passion for wrestling by being team leader for the USA Wrestling Team at the 2012 London Olympics and creating a fund to support wrestlers at the 2016 Rio Olympics.
Beyond his work with residential neighborhoods, Barry is a development partner in many prestigious hotels, including the Standard East Village, the historic Chelsea Hotel, the Pod Hotel in Williamsburg and the Chiltern Firehouse in London. In addition, Barry is on the Board of Directors of Fortress Investment Group and the Lowline and on the Board of Trustees of Beat the Streets Wrestling, as well as chairman of the Board of Trustees of Liberty Science Center. A committed alumnus, Barry shares his love for Columbia with his wife, Kyra Tirana Barry '87, and their children, Charley, Jake and Olivia'17.
In recognition of his groundbreaking vision for real estate development and his ongoing support of Columbia College and wrestling, Columbia is honored to present David B. Barry with a 2017 John Jay Award for distinguished professional achievement.