2017 John Jay Honoree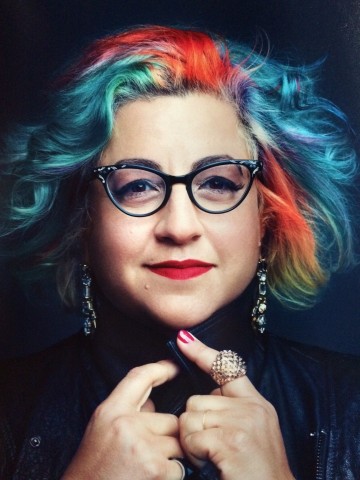 Jenji Kohan's unprecedented work as a television producer and writer has earned her acclaim throughout the industry. The multiple award-winning series she has guided to success demonstrate her skill as a showrunner as well as her endless creativity as an author of authentic stories with nuanced characters.
Kohan's passion for television writing has been recognized with numerous awards and nominations, and Time magazine named her one of the 100 Most Influential People in the World in 2014. Kohan is known not only as a believer in the power of entertainment to change the way audiences view the world but also as a pioneer in once male-dominated writing rooms.
Having grown up in a family of writers in California, Kohan studied English at the College before returning to Los Angeles to pursue a writing career. She quickly earned a favorable professional reputation by contributing to The Fresh Prince of Bel-Air, Mad About You, Sex and the City and Gilmore Girls. Kohan was awarded her first Emmy in 1997 for her work on Tracey Takes On.
With her creation of Weeds for Showtime, Kohan received acclaim for her innovative storytelling style and leadership as a showrunner. Viewing each of its eight seasons as a new show, Kohan developed fresh, flawed characters that resonated with audiences. She earned a Writers Guild Award for the pilot in 2006 and was the showrunner for all eight seasons.
While wrapping up the final season of Weeds, Kohan was developing her next project: Orange Is the New Black. Launched in 2013, the series was groundbreaking, as it was one of the first series developed by Netflix. The show put Kohan at the forefront of delivering streaming content and inspired a devoted fan base, becoming Netflix's most popular original series.
As the series' creator and executive producer, Kohan has been instrumental in developing its well-researched, realistic prison storylines and infusing them with honest humor, exposing the experience of prison life for women. She also has introduced a range of characters representing various ages, races and sexual identities, providing a voice in the cultural mainstream for characters previously viewed as unconventional.
Orange Is the New Black has earned 17 Emmy Award nominations and four wins, six Golden Globe nominations and five Writers Guild of America Award nominations. It has been presented with three SAG Award for Outstanding Performance by an Ensemble in a Comedy Series, a Producers Guild of America Award, an American Film Institute Award and a Peabody Award.
The show was renewed in 2016 for three more seasons, and Kohan has been executive-producing her new series, G.L.O.W., about a 1980s women's wrestling league. Kohan is also devoted to her husband and children, and as a showrunner, is supportive of her staff balancing family and work.
In recognition of her trailblazing vision as a television writer and producer, Columbia is honored to present Jenji Kohan with a 2017 John Jay Award for distinguished professional achievement.