2017 John Jay Award Honoree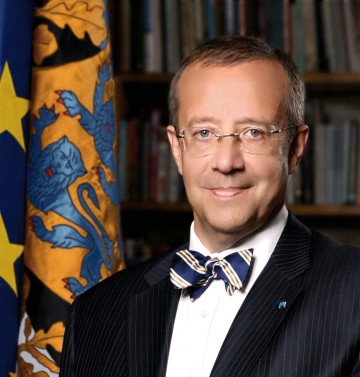 Toomas Hendrik Ilves' decades of outstanding service to the international community have earned him admiration around the world. Having aided the Republic of Estonia since 1991, Ilves' 10-year tenure as its president was instrumental in securing its economic stability and advancing its IT development. After being elected in 2006, Ilves used his two terms to strengthen Estonia's relationships with the United States, the European Union and NATO.
While president, Ilves was appointed to important positions focused on digital society and information and communications technology. He supported the EU as chair of its task force on e-Health, chair of the European Cloud Computing Steering Board and chair of the High-Level Panel on Global Internet Cooperation and Governance Mechanisms. He co-chaired the advisory panel of the World Bank's World Development Report 2016, and since 2014 has chaired the World Economic Forum's Global Agenda Council on Cyber Security.
Ilves' service to Estonia began shortly after it was declared independent from the Soviet Union in 1991, when he became the country's ambassador to the United States, Canada and Mexico. In 1996, Ilves began his tenure as minister of foreign affairs. He joined the Estonian Parliament in 2002, and in 2004 he was elected to the European Parliament, where he was vice president of the Foreign Affairs Committee. There he originated the Strategy for the Baltic Sea Region, which became official EU regional policy.
In addition to his government work, Ilves expanded the reach of his public service as a speaker at international forums on trans-Atlantic relations, cyber security, e-government and Internet freedom. Ilves has published articles, essays and interviews in English and Estonian, writing about topics from global security policy, to Estonian history, to the European economy to literature.
Ilves was a founder of the Estonian Foreign Policy Institute and president of the Estonian Special Olympics, and has sat on the boards of numerous civic groups. His work has earned him international accolades, including the Aspen Prague Award, the NDI Democracy Award from the National Democratic Institute and the Freedom Award from the Atlantic Council. Ilves has been recognized with three honorary doctoral degrees and received decorations from 19 countries in addition to Estonia.
This recognition reflects Ilves' passion for education, which he continued by earning a master's in psychology from Penn in 1978. Ilves shared his expertise in teaching positions at Columbia, the Open Education Center in Englewood, N.J., Simon Fraser University in Vancouver and the Vancouver Arts Center. He relocated to Germany in 1984 and joined the office of Radio Free Europe in Munich as a researcher, foreign policy analyst and ultimately head of the Estonian desk.
Ilves' guiding light, he has said, has been the understanding of liberal democracy — free and fair elections, rule of law and human rights — that was inculcated in him through the Core Curriculum.
In recognition of his devotion to improving the lives of Estonians and sharing his knowledge with the international community, Columbia is honored to present Toomas Hendrik Ilves with a 2017 John Jay Award for distinguished professional achievement.