2017 John Jay Award Honoree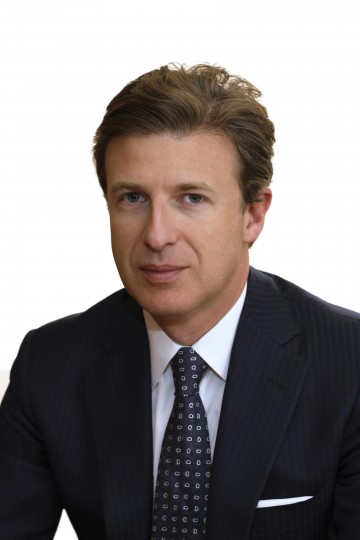 William A. von Mueffling's outstanding work in the investment industry has prompted leading financial publications to call him a "rock star" and "wunderkind" during the course of his impressive career. As president and CEO of Cantillon Capital Management, von Mueffling has lived up to these accolades by weathering market changes with finesse and thus becoming a legend in the industry.
Von Mueffling founded Cantillon in New York in 2003, creating a firm that has supported the needs of private investment funds, charitable institutions, foundations and endowments, and corporate pension plans. Initially using a long/short strategy, he outperformed many hedge funds while managing as much as $10 billion in assets. As Cantillon's sole shareholder, he ushered the company into a new era in 2009 by transitioning to a long-only strategy, reaffirming the company's place as an industry leader.
Prior to von Mueffling's success at Cantillon, he made a name for himself heading Lazard Asset Management's hedge fund group. Known for his work in technology and telecom markets, von Mueffling averaged annual returns of more than 30 percent and became an SVP and managing director, helping to build one of the world's largest and most profitable hedge funds. Von Mueffling created the company's European Opportunities Fund, which had a 182 percent return rate in its first full year, and he is credited with helping it maintain returns even as the market slowed.
Von Mueffling's impeccable record is no surprise after his remarkable dedication as a Columbia student. With a B.A. in political science, he moved abroad to work at Deutsche Bank in Germany and France and then continued his education at the Business School, earning an M.B.A. before joining Lazard.
A devoted alumnus, von Mueffling is a member of the Business School's Board of Overseers, as well as chair of the advisory board for the Heilbrunn Center for Graham & Dodd Investing. Partnering with SIPA, he launched whoisontheballot.org, a non-partisan website that offers New Yorkers a place to find comprehensive election information describing polling places, candidates, and state and local election rules.
A member of numerous nonprofit boards through the years, von Mueffling chaired the Buckley School Board of Trustees until 2016 and was a board member of the International Center of Photography. Von Mueffling chairs the investment committee for the American Academy in Berlin, he is on the Human Rights Watch investment committee and he is on the advisory panel of Charity Navigator.
In addition, von Mueffling has been a trustee at the French American Cultural Exchange, a special adviser at Industry Capital Management and a member of President George W. Bush's Working Group on Financial Markets. For his many accomplishments, von Mueffling has been awarded honors such as the Graham & Dodd, Murray, Greenwald Prize for Value Investing from GAMCO Investors.
In recognition of his exceptional skill as an investment manager and his devotion to numerous nonprofit organizations, Columbia is honored to present William A. von Mueffling with a 2017 John Jay Award for distinguished professional achievement.