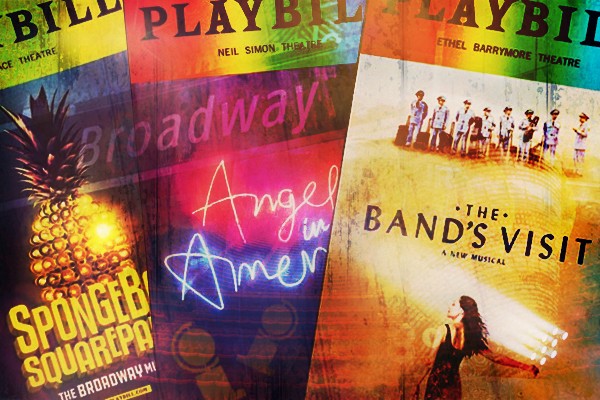 When asked about the lasting impact of his play Angels in America in an interview with The Seattle Times, Tony Kushner CC'78 mused about its continued resonance with audiences: "My hope is that if it's a really good play, and has complexity, if it's about a lot of things and doesn't give easy answers, and if it doesn't try to get people to subscribe to orthodoxies but ask questions and deal with the paradoxical nature of existence, it will always have something meaningful to say." And the acclaimed play continues to have something meaningful to say —it was honored with a Tony Award for "Best Revival of a Play" at the June 10 ceremony, and two of its stars, Nathan Lane and Andrew Garfield, received awards for their roles in it.
If you're a theater aficionado, you might also know the names Tom Kitt CC'96; Steven Chaikelson CC'89, SOA'93, LAW'93; Jennifer Kidwell CC'00 and Daniel Lazour CC'16. During this past weekend's Tony Awards, SpongeBob Squarepants: The Musical, for which Kitt is musical producer, was nominated for several awards. However, it was The Band's Visit that dominated the night, taking home 10 awards — an exciting moment for Chaikelson, who was an associate producer on the show.
Chaikelson has worked on notable Broadway productions including Death of a Salesman, The Lion King, Elaine Stritch at Liberty and Fool Moon. He became an adjunct lecturer at Columbia in 1998, later transitioning to full-time professor in 2002, and serves as the director of the Theatre Management & Producing Concentration academic program. He also helped organize the Columbia University School of the Arts T Fellowship Program, which supports emerging theater producers, including Orin Wolf, who went on to create The Band's Visit.
College alumni's theatrical influence isn't contained just within the walls of Tony Awards. Jennifer Kidwell CC'00's Underground Railroad Game, a play about the legacy of slavery in America, recently landed on The New York Times' list of 25 most significant American plays. And Daniel Lazour CC'16's new musical, We Live in Cairo, will be presented during the American Repertory Theatre's 2018–19 session.
From award-winning Broadway shows to smaller works, College alumni continue to carry on the legacy of Richard Rodgers CC 1923 and Oscar Hammerstein II CC 1916 (whose revival of Carousel is also now back on Broadway), with songs and words on the big stage.