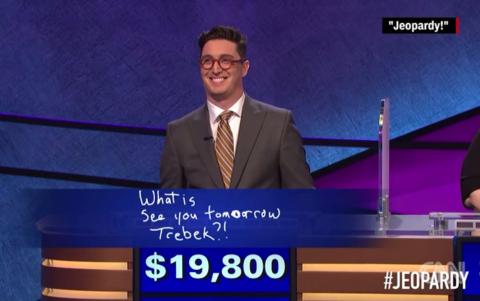 Austin "Buzzy" Cohen CC'07, a music executive from Los Angeles and longtime Jeopardy fan, won total of $164,603 across nine episodes on Jeopardy at the end of May. While Cohen's impressive nine-day winning streak was likely watched by many Columbia alumni, it was his with his lighthearted, witty banter with Alex Trebek that earned him significant attention in national media, including coverage in Time and USA Today, as well as dedicated TV fan following.

Cohen became known for bantering with Trebek and curating witty answers in the "Final Jeopardy" round. Cohen's first answer "What is, see you tomorrow, Trebek?," which Cohen wrote as the answer to his first Final Jeopardy question, referenced an SNL skit starring Will Ferrell as the host and Darrel Hammond as celebrity guest Sean Connery. In an interview with Vanity Fair, Cohen said he learned the importance of being loose from the show's staff: "The thing that they really drive home is that it's a game show, and you should have fun — and the people that do the best on the show are the people that are having fun. So I really was having a ton of fun," he said.

Aside from his banter with Trebek, Cohen is also known for displaying his confidence-induced signature moves, such as brushing off his shoulder and combing his hand through his hair. To study up for his game show run, Cohen ordered Trivial Pursuit decks online and read through the cards. When morale was low, he turned to Rocky Balboa as a source of inspiration. When asked in a Yahoo! interview what he will do with his winnings, Cohen replied, "The TV answer is buy another classic car," he said. "But the real answer is start a college fund for my daughter and maybe get a new roof."

Watch Cohen's interview about his run on Jeopardy on Entertainment Tonight.