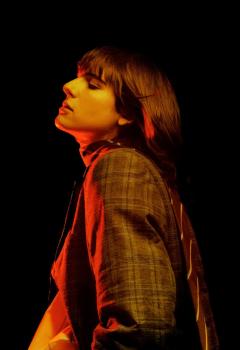 A few days before donning her cap and gown at graduation, Hari Nef CC'15 made history as the first transgender model to be represented worldwide by the premiere modeling agency, IMG. At the same time, she was offered a role on the acclaimed television series, "Transparent," and earned a Screen Actors Guild Award nomination for her work that same winter.
But it was during her time as a drama major at Columbia College that she first stepped into the limelight. As a sophomore, she began performing with a punk-drag collective that toured in Miami and Glasgow. As she realized she felt more comfortable performing as a woman, she began auditioning for female roles in school.
While an intern at fashion agencies, including VFILES, she was encouraged to step in front of the camera, and in the fall of 2014 she made her New York Fashion Week debut, an opportunity that opened doors to walking Fashion Weeks around the world.
Since then, her work and recognition has only grown. Earlier this summer, Vogue declared, "Hari Nef is Ruling the Red Carpet," and you can even spot her in the first few seconds of the recent autumn 2016 H&M commercial.
Yet as more and more transgender people emerge in the pop-culture scene, Nef insists, "There isn't a trans moment. There were zero, and now there are ten to fifteen." Read her profile in The New Yorker.
WATCH: Hari Nef's TEDx Talk "#FreeTheFemme"
LISTEN: "Women of the Hour Podcast with Lena Dunham"
(Scroll to 19:21 for Hari Nef)
PHOTOGRAPH BY BRIAN FU FOR THE NEW YORKER