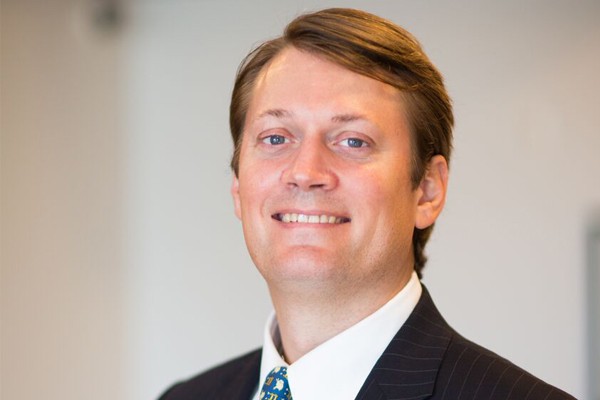 Nick Vita CC'95 was honored with a Disruptive Innovation Award in April at the Tribeca Film Festival for his leadership as the co-founder, vice chairman and CEO of Columbia Care, the largest medical cannabis product development, manufacturing and dispensing operator in the United States. The award, in its ninth year, focuses on the intersection of technology and culture with an aim to advance social progress and create solutions for some of the world's perplexing problems.
Columbia Care offers alternative treatments for illnesses and a variety of other health conditions, such as sleep disorders, depression, cancer, HIV and more. Already serving more than tens of thousands of patients monthly, the company seeks to provide healthier and more effective options for its patients' needs through an end-to-end infrastructure that includes farming of high-quality medical marijuana, partnerships with renowned medical institutions (including Columbia's Vagelos College of Physicians and Surgeons) that conduct research on the benefits, uses and risks, through to the operations of dispensaries and customer care centers that work directly with patients across the United States. Columbia Care has serviced over 100,000 patients already, a sign that the concept is taking hold.
Due to the lack of federal oversight of the industry, Vita says, "Trial and error was my most important teacher. Failure has always been viewed internally as an opportunity to improve and in a market where everything is new, failure was also a catalyst for innovation." Working closely with a seasoned executive board from organizations such as Goldman Sachs, PepsiCo and the Dana-Farber Cancer Institute, Vita feels that Columbia Care is developing products that "will shake the foundation of the standard of care in a number of areas," leading to fundamental change in healthcare solutions. One challenge that medical marijuana is thought to be a possible solution for is in addressing the opioid epidemic, which President Trump declared a public health emergency last year. Columbia Care currently operates in Ohio, Pennsylvania, Arizona, llinois, Puerto Rico, Washington D.C., New York, Massachusetts, Delaware, California, Florida and Maryland.
Prior to founding Columbia Care, Vita spent more than 25 years in the finance industry, frequently focused on healthcare portfolios. His decision to create Columbia Care stemmed from a variety of impulses — the desire to contribute positively to the world in gratitude for the opportunities he has enjoyed and the desire to identify more effective and less dangerous treatments for his own loved ones. His belief that there should be medical solutions that work better and have fewer side effects drove him to persevere with the concept for Columbia Care, through the uncertainty of a new industry, and to now emerge as a leader in that industry.
Vita credits his Columbia College education and in particular, the Core Curriculum, for nurturing in himself and others a fighting spirit to advocate for ideas they believe in. "There is nothing more important than the ability to communicate and solve problems," says Vita, reflecting on seminars in Contemporary Civilization and Literature Humanities, where he was often unprepared for the questions or challenges presented to him by classmates. These experiences of learning in the moment were, he says, "a great life lesson." As a heavyweight rower, Vita also acknowledges the "heart" that was required to consistently drive his team to win competitions where often a win was measured in inches. Recalling a race where Columbia beat Harvard by a bow ball, which is less than an inch, Vita recalls, "We had to want to win and to be willing to sacrifice in order to succeed." That spirit, experienced over 20 years ago at Columbia, is something he feels sets up Columbia Care and his team to continue to disrupt and transform the medical industry.