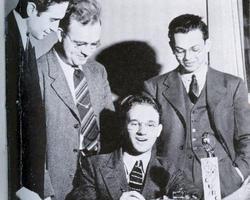 At Reunion Weekend 2016 in early June, Reunion Weekend Keynote Speaker and Senior Host of NPR's All Things Considered, Robert Siegel CC'68, remarked on the beginnings of his career. His passion for radio was sparked by his involvement at Columbia University's student-run radio station WKCR, which is now celebrating a milestone anniversary.
It was 75 years ago, at 8:30 p.m. on February 24, 1941, to be precise, that radio station CURC officially went on the air. Broadcasting from the Hamilton Hall Annex, a recording of "Roar, Lion, Roar" was heard by AM listeners in Hartley, Wallach (then called Livingston) and John Jay Halls. That was followed by light classical music, sports, jazz, campus news and symphonic music. Granted its FCC license on October 10, 1941, CURC became WKCR (King's Crown Radio) in 1946.
Read more about WKCR in CCT or to connect directly to the station webpage, click here.