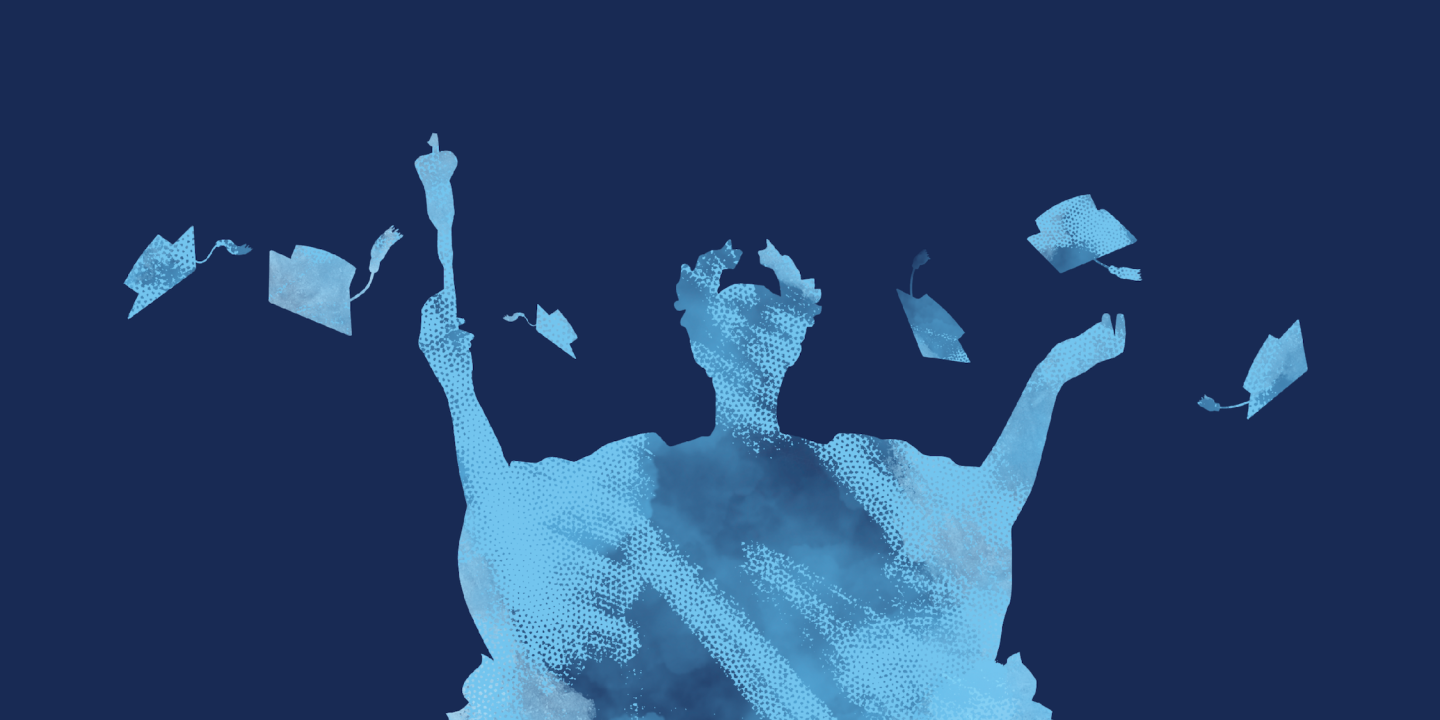 Graduation Celebration
Columbia College Classes of 2021 and 2020​
Thursday, May 19 | 4:00–6:30 p.m.
South Lawns, Morningside Campus
We are thrilled to announce a combined Columbia College celebration to recognize the graduates of 2020 and 2021! This event will be held on Thursday, May 19, from 4:00–6:30 p.m. on the South Lawns of the Morningside campus (untented; rain or shine). Graduates will have the chance to walk across the stage as their name is read. This will follow the
University ceremony
for all 2021 and 2020 graduates earlier in the day, scheduled for 9:00–10:30 a.m. on the Morningside campus.
Day-of Instructions
Columbia College Event (4:00 p.m.)
Event Check-in
Roone Arledge Auditorium, Lerner Hall, 3:00-4:00 p.m.
Arrive with your CUID (if you have one), a government issued ID and proof of vaccination. The wearing of academic regalia, while strongly encouraged, is not required.

You will be given a name card, which has been pre-filled with your information. Keep this card with you so that your name can be announced during the ceremony. If you lose it, you will have to get a new card and go to the back of the line as well as sit in the back of graduate seating.

Upon check-in, if there is no name card on file for you, please visit the walk-in table to obtain a blank card to fill in your information. You will then need to go to the back of the line as well as sit in the back of graduate seating.

Your name card acts as your ticket, so please do not lose it as only those with name cards will be permitted in the graduate seating on Butler Lawn.

Dress for the weather. South Lawn will not be tented, and the ceremony will take place rain or shine!

Limit or leave at home any additional items; there will not be storage or security for your belongings.
Procession
After you check in, line up on the ramps of Lerner Hall by 4:25 p.m., when the bells ring to signal the start of the procession at 4:30 p.m.

To sit next to someone during the celebration, you must process directly in front of or behind this person.

The procession will be led by staff and the senior marshals from the Classes of 2020 and 2021.

You will process in two single-file lines to Butler Lawn and remain standing until after the faculty and stage party are seated.
Please remember to be courteous of your fellow graduates and their families by remaining in your seats and being attentive throughout the celebration. Participants are not permitted to leave the celebration until the conclusion of the recession. Staff will be on hand throughout the celebration to help guide you and respond to your questions.
Guest Arrival
Seating will begin at 4:00 p.m.

Seating is first-come, first-served.

Guests should plan to queue up at the gates on 114th Street between Broadway and Amsterdam for entry to South Lawn.

As there is another school celebration occurring in this location immediately prior to the College celebration, any guests that gain access to the tents prior to 4pm will be asked to leave and line up on 114th Street with other guests.

Guests with disabilities should enter campus at 116th Street and Amsterdam and will queue just inside the gates on College Walk. Seating in the disability section will begin at 4:00 p.m.

All guests will be required to present their electronic ticket to staff to scan upon entry into the tented seating areas. Any guests that arrive without a ticket will not be admitted.

Tickets have a unique QR code that allows only one entry to the event after it has been scanned. The selling or buying of tickets is strictly prohibited.

All guests must present proof of vaccination.

Columbia University is committed to protecting the health and safety of its community. To attend any event on Columbia campuses, all graduates, visiting alumni, and guests must meet the University requirement of full vaccination status and provide full proof of COVID-19 vaccination. Anyone who is unable to be vaccinated will be required to provide proof of a negative COVID-19 test. Unvaccinated guests over the age of two must wear a mask during all events.

Event health and safety policies are dependent on the status of the University's COVID-19 Monitoring Plan and are subject to change. Please click here for the most current information. Events outside of Columbia campuses may have different requirements for in-person attendance.
Recession
Immediately following the ceremony, all alumni participants will recess behind the faculty and stage party back to Ancell Plaza. Participants are also invited to A Toast to CC'20 and CC'21 Graduates at Faculty House at 7:00 p.m.
University Celebration (9:00 a.m.)
More information about the University event can be found on the Commencement Website. Below is the timeline for this event.
7:30 a.m. Gates open for General Admission Outdoor seating: Line forms on Broadway at 115th Street to access General Admission gates.
Disability access: For individuals with disabilities or limited mobility, and those needing assistance, line forms at 115th and 116th Streets and Amsterdam Avenue.
8:00 a.m. Graduate lineup begins
8:30 a.m. Graduate procession begins
9:00 a.m. Celebration for the Classes of 2020 and 2021 begins
Registration and Guest Tickets
Registration for the Graduation Celebration for the Columbia College Classes of 2021 and 2020 is now live on MarchingOrder, the official Class Day registration platform. Alumni from these classes received an email directly from MarchingOrder on April 12 with instructions to:
Let us know you're coming; and

Confirm how your name will be announced as you walk across the stage.

The deadline to register in MarchingOrder is Saturday, April 23 at 5pm EDT. If you did not receive this email with instructions, please contact cc-events@columbia.edu.
Guest tickets for both the Columbia College event and the University Alumni Celebration for all 2021 and 2020 graduates earlier in the day on May 19 can be reserved through AudienceView. Alumni from these classes received an email on April 12 with their login information for this registration platform. Please note:

The CC Classes of 2021 and 2020 Graduation Celebration will have a limit of 6 guest tickets per alumni graduate.

If you require more than the 6 guest tickets allotted to you, you will have the option to be added to the waitlist and note how many additional tickets you are requesting (up to 5).

Should tickets become available, we will notify those on the waitlist in the order in which we received requests.

The University celebration will have a limit of 2 guest tickets per alumni graduate. Unfortunately, there is no wait list for additional tickets for this celebration.

All graduates will need to select a ticket for themselves in order to attend the University Ceremony (noted as "Graduate" when you register for that celebration).
Please refer to the how-to guide for visual instructions. The deadline to register yourself and guests in AudienceView for the University Alumni celebration is Monday, May 2 at 5pm EDT and the deadline to register for guest tickets for the College celebration is Friday, May 13 at 5pm EDT.
Class of 2021 and 2020 checklist
Update your contact information so you don't miss announcements regarding registration and ticketing.

Order your graduation regalia by April 27.

Register to attend the College Graduation Celebration in MarchingOrder.

Reserve guest tickets for both the College Graduation Celebration and University Alumni Celebration in AudienceView. Please refer to the how-to guide for visual instructions.
Vaccine Mandate:
We continue to follow guidance from the CDC and New York State Department of Health, as well as consult with the University President's COVID-19 Task Force regarding all planned in-person events. Proof of vaccination will be required for all attendees.* Necessary updates or changes to our plans will be communicated in a timely manner.
*All graduates, visiting alumni and guests, who are unable to receive the COVID-19 vaccination(s) for medical, religious, or other reasons will be required to do the following:
Each unvaccinated individual over the age of 2 years old will wear a face mask during all events.
Proof of a negative COVID-19 test, a same-day, at-home antigen test on the day of each event or PCR test within 48 hours of the first attended event, is required for any unvaccinated guest over age 5, and must be shown at entry for all indoor and outdoor events.
QUESTIONS?
Connect With Us