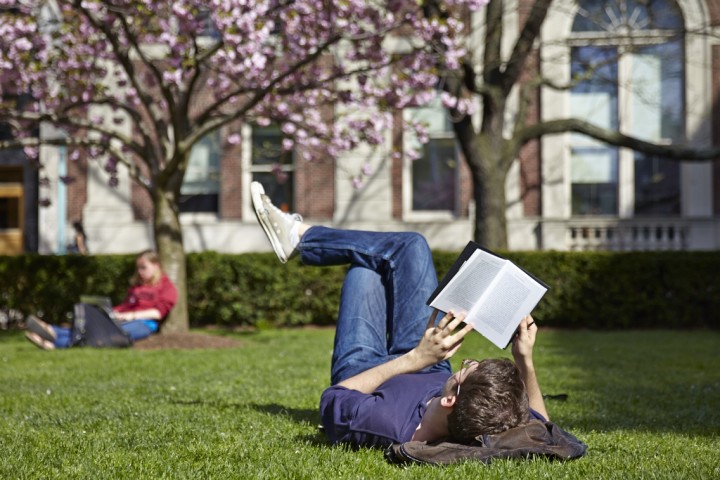 The Core Curriculum is one of the most profound intellectual and personal experiences students have at Columbia College.
Core Conversations invites you to join fellow alumni and Columbia faculty in an exciting program that encourages critical reading and thought-provoking discussions characteristic of the Core classroom, from wherever you are and at your own pace. In two to three-month sessions, alumni will read and discuss Core or Core-like texts through this private book club on the Goodreads online platform.
Spring 2020: Decameron with Columbia Faculty
Join fellow College alumni in revisiting Decameron, a Lit Hum work that has taken on an unpredicted new resonance in 2020. Co-led by current and former Lit Hum faculty members Deborah Martinsen, Maude Meisel, Margo Shohl Rosen and Nancy Workman, each week will focus on different stories from Boccaccio's collection of 100 tales, told amidst disaster and isolation during the Black Plague in 14th century Italy.
Join in the conversation this summer!
May 1-June 5
Past Sessions
To the Lighthouse and Virginia Woolf with Professor Joanna Stalnaker
The Works of James Baldwin with Yujhán Claros
The Iliad, Homer with Professor Kate Meng Brassel
Republic, Plato with Professor Marcus Folch
Julius Caesar and Othello, William Shakespeare with Professor Julie Crawford
Democracy in America, Alexis de Tocqueville with Professor Richard John
Crime and Punishment, Fyodor Dostoevsky with Professor Deborah Martinsen
How to Register
Click the button above to be directed to the Core Conversations group on goodreads.com.

If you have an account, sign in and continue to step 2.
If you are new to Goodreads, click "Create an Account" and proceed through the provided instructions to create an account.

Once logged in, click the "Join Group" button on the Core Conversations page.
In the message box that appears, type your full name and your Columbia College class year so we can verify your Columbia College connection.
Your membership should be confirmed within 24-48 hours.
If you are not a graduate of Columbia College and would still like to participate as a guest of an alum, include the full name and Columbia College class year of the alumnus with whom you are joining.
Frequently Asked Questions
Why is Columbia using Goodreads?
Through Goodreads, the professor posts your reading assignments and guiding questions to generate discussion. Members can post to discussions, ask questions and exchange insights, making the reading experience communal and more expansive than when you read great books on your own.
What if I want to join, but missed the first session?
Feel free to join the discussion at any point. If you like, you can read the past discussions to learn what the group has been focusing on.
What's the cost?
None! There is no cost to join Goodreads or to participate in Core Conversations.
How will I interact with the professor?
The professor leading each Core Conversation will be available via discussions posts and on occasion via a live video stream.
Do I need a certain edition or version of the book?
Please check the "Upcoming" and "Currently Reading" descriptions for whether a specific edition is required. In addition, Goodreads will have a link to the version the professor is using. Faculty will likely not require a specific edition, although they will likely reference page numbers from the edition they are using.
Can I do more than one Core Conversation each year?
Yes! Please join as many Core Conversations as you'd like!
Do I need to have finished the entire book or set of readings by the first session?
No. The professor will post a reading plan that assumes you have not read any of the book before the first session.
Can non-alumni join?
Yes! Feel free to invite friends, spouses and family members to join you in a Core Conversation experience. Non-alums cannot join on their own, though, as our goal is to maintain the Columbia College connection. When your non-alum clicks the "Join Group" link, they must list the name and class year of their affiliate alumnus/a in the Note section.