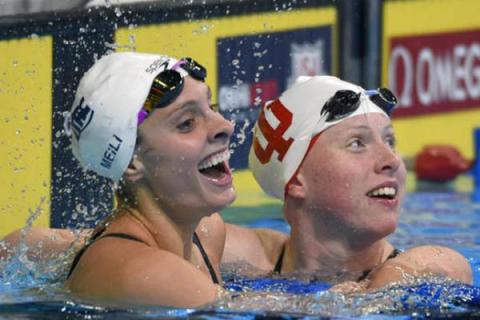 On June 28, Katie Meili CC'13 delivered a 1:06.07 runner-up finish in the finals of the 100m breaststroke at the U.S. Olympic Trials, solidifying her opportunity to compete in the 2016 Olympic Games in Rio de Janeiro. Her qualifying time was just behind the world's fourth-fastest time.
As reported by the Columbia Spectator, Meili's performance followed two notable performance days at the Olympic Trials in Omaha, Nebraska, with steady improvement across each of her three races. Meili entered Trials as the top seed on the psych sheet, and swam a time of 1:06.57 to finish second in the preliminary heat on Monday. Meili then took third in the semifinals later that day with a time of 1:06.37 before saving her fastest swim for the final, qualifying swim.
Through three days of competition, Meili became the only Columbia swimmer to punch her ticket to Rio de Janeiro. Rising sophomore Jessica Antiles finished last in the preliminary heat of the 400-meter individual medley with a time of 5:09.37. Classmate Michal Zyla CC'13 touched in at 3:58.91 for a 55th-place finish in the men's 400-meter freestyle heat. David Jakl CC'15, took 42nd in the 100-meter backstroke in 56.12 seconds. And Andrew Ngan CC'15's missing of his chance to compete in the Olympic Trials was covered in the New York Post and Sports Illustrated.
After making her first Olympic team with the swim on June 28, Meili spoke with Swimming World and reflected on the biggest breakthrough of her career.
Meili has stated that throughout her journey she's proud to represent Columbia. "I love telling people if I hadn't have gone [to Columbia], I wouldn't be the person I am today and I don't think I'd still be swimming."
Read more about Meili and her journey to the Olympics in CCT.