With the presidential election just weeks away, Seth Flaxman CC'07 is working hard to make sure voter turnout will be as high as possible. His goal is to surpass the nearly 60% participation rate from 2012 and raise it to 80% by 2020.
"I think if we just rely on politicians to get out the vote, we're never going to see mass participation," Flaxman told the The Wall Street Journal.
Through the TurboVote Challenge, from Democracy Works, which Flaxman co-founded in 2010, Google, Facebook and Univision are among the 35 companies who have partnered with the challenge to encourage civic engagement both among their users and employees. Starbucks, for example, is putting voter registration reminders on cups as well as urging their own baristas to register to vote. On Snapchat, users can swipe to access registration information and watch promoted celebrity videos from the likes of Jimmy Fallon and Dwyane "The Rock "Johnson, all thanks to TurboVote.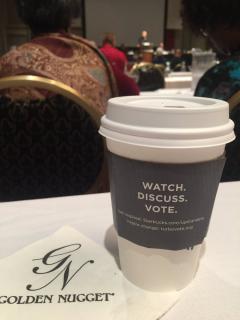 Columbia College is also sponsoring TurboVote to encourage current eligible students to get to the polls in this November's election. "Providing access to this application is a direct result of feedback I've heard from student and alumni leaders across the political spectrum," said Dean James J. Valentini said. "Facilitating civic engagement and allowing students to engage in the democratic process is important to Columbia College and we are glad to be able to offer this resource to the Columbia community."
Beyond TurboVote, Flaxman and Democracy Works have been involved in other projects, such as The Voting Information Project, a partnership with Google to collect civic data and provide accurate and easily accessible Election Day information to the public, and Ballot Scout, to help usher in absentee ballots and make them count.
READ: Seth's Alumni Profile in Columbia College Today, Spring 2012