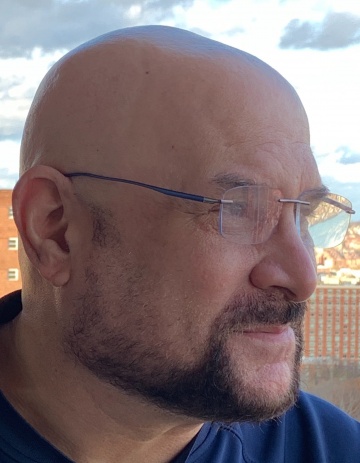 A deluxe version of the
John Lennon/Plastic Ono Band
album will be rereleased in honor of its 50th anniversary on April 16;
Rob Stevens '74
is responsible for the album's remastering and reengineering. From
Rolling Stone
:
"The super deluxe edition boasts 159 tracks — 87 of which have never been released — across six CDs and two Blu-ray discs. The project was overseen by Ono, using the same audio team that worked on the 2018
Imagine
box set (engineers Paul Hicks, Rob Stevens, and Sam Gannon). ...The collection contains unreleased demos, rehearsals, outtakes, jams, and studio conversations."
Ben Jealous '94, a board member of the online bank Aspiration, was featured in a March 31 Q&A in The New Yorker discussing how banks and consumers' banking choices can help fight climate change.
Tom Kitt '96 received a 2021 Grammy Award in the "Best Musical Theater Album" category along with the cast of Jagged Little Pill. Kitt, who arranged the orchestrations, accepted the award on behalf of the team on March 14.
Two alumni are featured in the March 10 New York Times article "7 Questions, 75 Artists, 1 Very Bad Year." Musician and composer Nico Muhly '03 answered several questions, including "What's a moment from this year you'll always remember?" His response: "I had been having an awful, soul-crushing day of artistic torpor, and was 'celebrating' by buying socks in the abandoned Uniqlo on 34th street when they called the election for Biden. The staff and I were all screaming and dancing around. I walked up to Times Square, which was initially deserted and then filled up as if in a time-lapse video. Within five minutes, the whole of New York was there: a man on a Segway with a three-legged corgi, the Naked Cowboy, some gay people turned up in Daisy Dukes with 'Kamala' glitter-gunned onto the bottoms. A man had a jeroboam of champagne and started pouring it into plastic cups. I think it was the first time I'd been genuinely, three-dimensionally happy in months." Playwright and screenwriter Katori Hall '03 also participated; her response to "What art have you turned to in this time?" was "Pole dancing. I can spend hours and hours looking at women and men dancing. Their art form has always inspired me."
On March 2, Nobuhisa Ishizuka '82, LAW'86 was elected chair of the Board of Directors of USRowing, which oversees and regulates all American rowing teams and is responsible for coordinating American participation in the upcoming 2021 Summer Olympics.
The audiobook edition of The Trial of the Chicago 7: The Official Transcript was nominated for a 2021 Audie Award in the Multi-Voiced Performance category by the Audio Publishers Association. Mark Levine '66 is one of the book's co-editors; the audiobook is the 50th anniversary edition of the work that is the basis of the 2020 film The Trial of the Chicago 7. The editors reduced the trial transcript from 22,302 pages to 286 pages; it details the trial of a group of anti-Vietnam War protesters "charged with conspiracy and crossing state lines with the intention of inciting riots at the 1968 Democratic National Convention in Chicago."