Named in honor of one of our nation's Founding Fathers, Alexander Hamilton (Class of 1778), the Alexander Hamilton Medal is the highest honor one can receive from Columbia College Alumni Association. It is awarded to members of the community for both distinguished service to the College and exceptional accomplishment in any field of endeavor.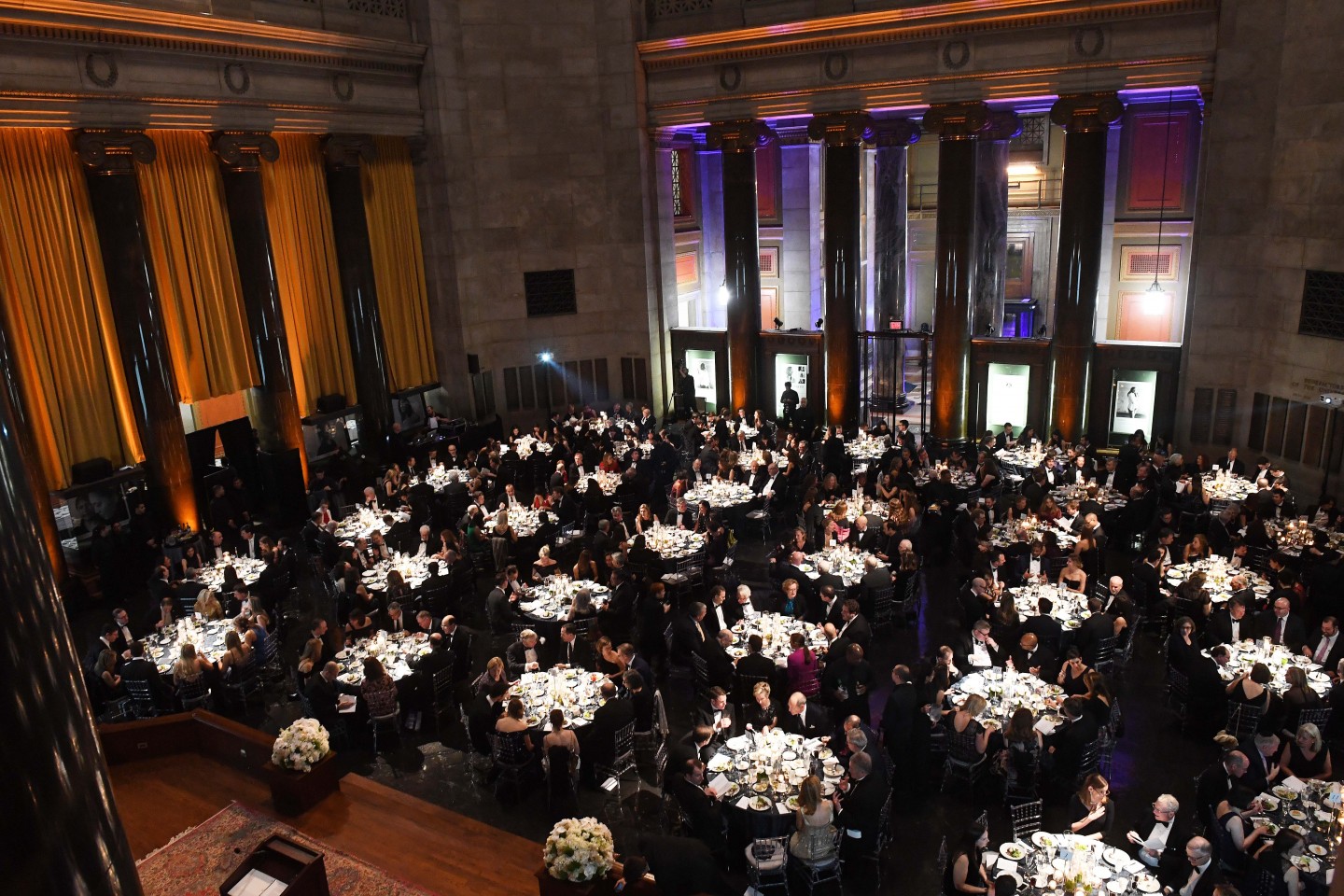 The medals are presented each November at a black-tie dinner in Low Library Rotunda, the proceeds of which directly benefit College students by supporting the priorities of Columbia College, including the Core Curriculum and financial aid.
Recipients include alumni, faculty, artists, politicians and more, from Nicholas Murray Butler (Class of 1882), Richard Rodgers CC'23 and Oscar Hammerstein II CC, to Lawrence A. Wien CC 1925 and former Attorney General of the United States, Eric H. Holder Jr. CC'73, LAW'76. See the full list below.
2022 Recipient: Claire C. Shipman CC'86, SIPA'94
Recipients
2020 – present
2010 – Present
2010 • Michael B. Rothfeld CC'69
2011 • Gerry Lenfest LAW'58, HON'09
2012 • Jonathan D. Schiller CC'69
2013 • Joel I. Klein CC'67
2014 • Phillip M. Satow CC '63
2017 • Jonathan Lavine CC'88
2018 • Lisa L. Carnoy CC'89
2000 – 2009
2000 • William V. Campbell CC'62
2001 • Philip L. Milstein CC'71
2002 • George Rupp
2003 • Emanuel Ax CC'70
2004 • Robert K. Kraft CC'63
2005 • Richard E. Witten CC'75
2006 • Robert Berne CC'60
2007 • Mark E. Kingdon CC'71
2008 • Austin E. Quigley
2009 • Conrad H. Lung CC'72
1990 – 1999
1990 • Harold Brown CC'45
1991 • John W. Kluge CC'37
1992 • Max Frankel CC'52
1993 • Michael I. Sovern CC'53
1994 • Tenured Teachers of the Core accepted by Jacques Barzun CC'27
1995 • Columbia College Nobel Laureates in the Sciences since 1961: Leon N. Cooper CC'51; Roald Hoffman CC'59; Norman F. Ramsey Jr. CC'35; Melvin Schwartz CC'53; Clarice Schwinger on behalf of the late Julian S. Schwinger CC'36
1996 • George J. Ames CC'37
1997 • Alfred Lerner CC'55
1998 • Roone Arledge CC'52
1999 • Richard Axel CC'67; Wm. Theodore de Bary CC'41;

James P. Shenton CC'49
1980 – 1989
1980 • Herman Wouk CC'34
1981 • Lawrence A. Wien CC'25
1982 • Arthur O. Sulzberger CC'51
1983 • Franklin A. Thomas CC'56
1984 • Thomas M. Macioce CC'39
1985 • Past Deans of Columbia College: Lawrence H. Chamberlain; David B. Truman; Carl F. Hovde CC'50; Peter R. Pouncey; Arnold P. Collery
1986 • Joseph L. Mankiewicz CC'28
1987 • Robert Giroux CC'36
1988 • Morris A. Schapiro CC'23
1989 • Robert E. Pollack CC'61; Michael Rosenthal
1970 – 1979
1970 • Andrew W. Cordier
1971 • Lionel Trilling CC'25 (presented in 1972)
1973 • Emanuel Celler CC 1910
1974 • Nicholas D. McKnight CC'21
1975 • Meyer Schapiro CC'24
1976 • Arthur B. Krim CC'30
1977 • George E. Jonas CC 1919
1978 • George T. Delacorte CC 1913
1979 • William J. McGill
1960 – 1969
1960 • Ward Melville CC 1909
1961 • The Columbia College Nobel Laureates; Edward Calvin Kendall CC 1908; Polykarp Kusch; Willis Eugene Lamb Jr.; Joshua Lederberg CC'44; Herman Joseph Muller CC 1910; John Howard Northrop CC 1912; Isidor Isaac Rabi; Harold Clayton Urey
1962 • John Allen Krout
1963 • Dwight David Eisenhower
1964 • William Towson Taylor CC'21
1965 • Peter Grimm CC 1911
1966 • Alfred A. Knopf CC 1912
1967 • Benjamin J. Buttenwieser CC 1919
1968 • Allan Nevins
1969 • Arthur F. Burns CC'25; Joseph Wood Krutch
1947 – 1959
1947 • Nicholas Murray Butler CC 1882
1948 • Frank Diehl Fackenthal CC 1906
1949 • Vi Kyuin Wellington Koo CC 1909
1950 • William Joseph Donovan CC 1905
1951 • Harry James Carman
1952 • Carlton Joseph Huntley Hayes CC 1904
1953 • Arthur Hays Sulzberger CC 1913
1954 • Frank Smithwick Hogan CC'24
1955 • Frederick Coykendall CC 1895; Marcellus Hartley Dodge CC 1903
1956 • Richard Rodgers CC'23; Oscar Hammerstein II CC 1916
1957 • Grayson Kirk
1958 • Edmund Astley Prentis CC 1906
1959 • Mark Van Doren