On Saturday, April 22, 2017, over 300 alumni and students celebrated the 30th anniversary of the graduation of Columbia College's first fully coeducational class. We reflected on our journeys, the wisdom we have gained and the opportunities and challenges ahead.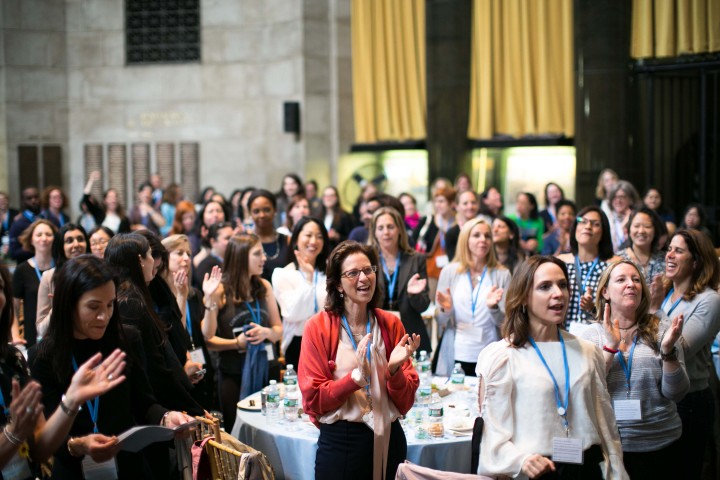 In the decades since the first class with women arrived at the College, much has changed for women here and in the world at large, but still, much remains to be done. The women's symposium offered opportunities to learn, discuss, network and celebrate as we came together to honor the past and look to the future.​​
This event is supported in full by the Columbia College Alumni Association.
Planning Committee
Virginia Cornish CC'91
Poppy Harlow CC'05
Stefanie Katz-Rothman CC'88
Katie Kingsbery CC'07
Christina Macchiarola CC'10
Nathania Nisonson CC'03
Elizabeth Robilotti CC'99
Teresa Saputo-Crerend CC'87
Claire Shanley CC'92
Mila Tuttle CC'96
Suzanne Waltman CC'87
Sherri Wolf CC'90
Host Committee
Zila Acosta CC'11
Maria Alzuru CC'10
Allyson Baker CC'95
Whitney Berkholtz Chiate CC'96
Tiffany Bryant CC'08
Monica Byrne-Jimenez CC'88
Allie Carieri CC'15
Laura Ciolkowski CC'88
Christine Cronin Hurst CC'84
Ashley Culver CC'15
Ana German CC'07
Gerri Gold CC'87
Asalia Goldberg CC'12
Jenn Goldstone CC'95
Stef Goodsell CC'09
Kathryn (Hudacek) Harlow CC'94
Rhonda Henderson CC'00
Candice Herschel CC'14
Katherine Howitt CC'13
Marvellous Iheukwumere CC'14
Lee Ilan CC'87
Afiya Jordan CC'00
Sarah Kass CC'87
Elizabeth Kipp-Giusti CC'12
Rose Kob CC'96
Yumi Koh CC'93
Elizabeth Kubany CC'91
Joanne Kwong CC'97
Jenna Lomeli CC'15
Janet Lorin CC'95
Sophie Luo CC'14
Donna MacPhee CC'89
Katrina Martell CC'16
Hilary Martin CC'15
Diane Orlinsky CC'88
Estelle Perera CC'97
Marya Pollack CC'87
Michelle Qiuyun Tan CC'16
Bonnie Rosenberg CC'91
Meryl Rosofsky CC'86
Ana Salper CC'96
Rebecca Schechter Fattell CC'14
Stephanie Schwartz CC'88
Amirah Sequeira CC'12
Khadijah Sharif-Drinkard CC'93
Stephanie Sirota CC'97
Lara Stolman CC'91
Zahrah Taufique CC'09
Laura Vigilante CC'14
Kate Ward CC'98
Estelle Winkelman CC'15
Sahng-Ah Yoo CC'15
Janice Yoon CC'14
Lauren Bauer Zinman CC'90
To join the Host Committee or become involved in future events, please contact us at CCWomen@columbia.edu
Other Upcoming Events:
WEDNESDAY, APRIL 26: Toast to Graduating Seniors More Info
ONGOING: Mentoring for the 2016-2017 school year Sign Up Now!