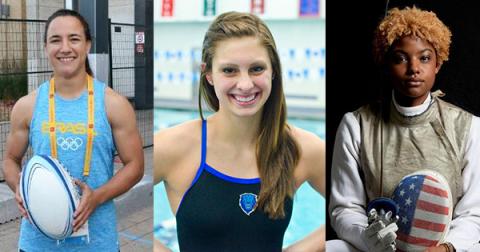 Olympic spirit is sky-high at Columbia as three College alumnae are competing in Rio 2016: rugby player Isadora Cerullo CC'13 (representing Brazil), swimmer Katie Meili CC'13 (representing U.S.), and fencer Nzingha Prescod CC'15 (representing U.S.).
Isadora Cerullo CC'13
Cerullo had never heard of rugby five years ago; a friend took her to a men's student match at Columbia, and someone in the audience noticed her fascination. It was the University's women's team captain who approached her at that game to become one of 19 athletes recruited from around the world for Brazil's largest-ever Olympic delegation. Cerullo, who had visited Brazil once when she was 9 (her parents fled Brazil 35 years ago), is a top athlete who had tried out for the U.S. national team. This year marks the first time in 100 years that women's rugby has been in the Olympics. On August 8's match between Brazil and Japan for ninth place in the tournament, Cerullo entered the game with about two minutes left and immediately scored a try (a goal in rugby). Read more about Cerullo.
Katie Meili CC'13
Meili's qualifying time to join the Olympics was just behind the world's fourth-fastest time ever. On August 7, she swam a time of 1:06.52 which tied her for third in her heat and fifth overall. On August 8, Meili claimed the bronze in an exciting 100m breaststroke finals with a time of 1:05.69. Meili has stated that throughout her Olympic journey she's proud to represent Columbia. "I love telling people if I hadn't have gone [to Columbia], I wouldn't be the person I am today and I don't think I'd still be swimming."
Read more about Meili.
Nzingha Prescod CC'15
This Olympics marks the the second for Prescod, who placed 22nd in the individual foil event four years ago in London. Her 2015 world bronze medal, for which she defeated 2012 Olympic champion Elisa Di Francisca of Italy, was a breaththrough; her bronze was the first individual world medal won by a black American woman. In 2013, she was the first American woman foil fencer to win gold at a Grand Prix, one of a series of elite international competitions. On August 10, Prescod triumphed over Mexico in her final game at the Olympics. Read more on Prescod and don't miss Columbia College Today's 2013 coverage.
Akua Obeng-Akrofi CC'18

Alumni are not the only College Columbians who have made their way to the Olympics. Rising junior Akua Obeng-Akrofi CC'18 is set to be part of the Ghanian 4x100m relay team August 18. "This is my first year running with the Ghana team, so going in I didn't know a majority of the team," Obeng-Akrofi said. "They welcomed me with open arms and I got the chance to build relationships with all of them. There is so much love on the team and I feel honored to be a part of it." Read more about Obeng-Akrofi.