Thursday, November 16, 2017
Low Library Rotunda, Columbia University
116th Street and Broadway
New York,
NY
10025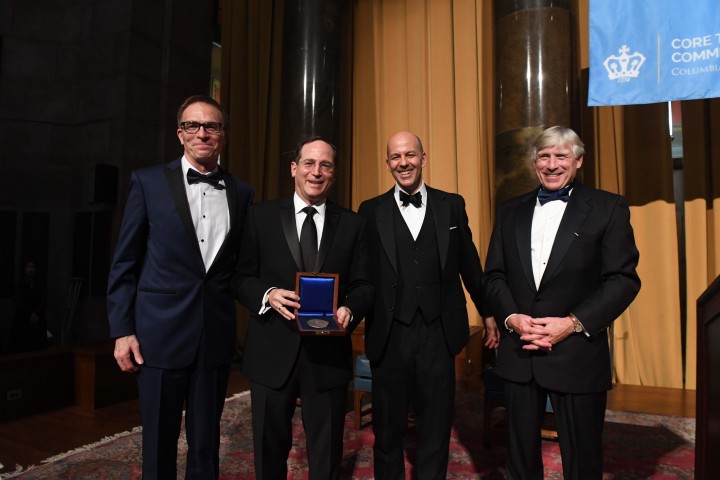 The 70th Alexander Hamilton Dinner and presentation of the Alexander Hamilton Medal took place on Thursday, November 16, 2017.
The Alexander Hamilton Medal is the highest honor awarded to a member or members of the College community for distinguished service to the College and accomplishment in any field of endeavor. It is presented by the Columbia College Alumni Association, James J. Valentini, Dean of Columbia College, and Lee C. Bollinger, President of Columbia University.
2017 Honoree
This year's Alexander Hamilton Medalist is an extraordinarily devoted Columbia citizen and an ambassador and exemplar of the College and University's commitment to inquiry, social engagement and transformation. His longtime support of the College and the University continues to make an indelible mark in the classrooms, across the campus and in the community.
DINNER CHAIRS
​Jeffrey B. Hawkins

Robert K. Kraft CC'63

Victor Mendelson CC'89

Jonathan D. Schiller CC'69

Esta Stecher

LAW

'82
DINNER COMMITTEE
Armen A. Avanessians SEAS

'

83
​Kyra Tirana Barry CC

'

87​
Lisa Carnoy CC

'

89

Tom Cornacchia CC'85

Dr. Allen Hyman CC'55

Stefanie Katz-Rothman CC

'

88
Mark E. Kingdon CC

'71

Allison K. Lavine CC

'

16
Emily H. Lavine CC

'

18
Nicholas P. Leone CC

'

88

Alex Navab CC'87

Mike Rothfeld CC'69

Hal Shapiro CC

'88

Jonathan S. Sobel CC

'

88
John Vaske CC

'88

Doug Wolf CC'88

Marc Wolpow
Additional Details
Dinner proceeds directly benefit College students by supporting the priorities of Columbia College, including the Core Curriculum and Financial aid.
Learn more about the history of the Alexander Hamilton Award Dinner, named in honor of one of our nation's founding fathers, Alexander Hamilton CC 1778.
If you have a story or memory to share about Jonathan Lavine CC'88, please email us here.