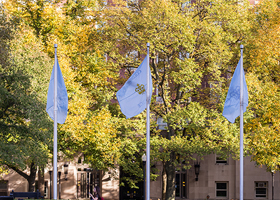 Having served as Dean of Columbia College for the last six years, James J. Valentini is more committed than ever to enhancing the student experience and to ensuring the College's continued relevance as the world evolves and shifts in ways we cannot predict. In a September 29 letter to College alumni, Valentini shared a set of priorities and aspirations that includes the input and ideas of senior staff, faculty, students and alumni.
"These priorities will sustain the unique aspects of Columbia College," said Valentini in the letter, "while also introducing new opportunities to provide innovative, dynamic and transformative experiences, along with the individualized advising and support students need to succeed. They take the best and most distinctive aspects of Columbia College and elevate them further, strengthening the College for us all."
Attract and support the best and brightest students.
Continue to enhance the Core Curriculum.
Enhance the support of faculty committed to undergraduate teaching, mentoring and advising.
Provide innovative and dynamic curricular offerings to prepare students for an ever-changing world.
Build a transformative global educational experience for students.
Enhance the undergraduate experience beyond the classroom.
Strengthen the undergraduate experience by developing a "whole-life" philosophy.
Address the administrative, residential and fitness facilities needed to strengthen the undergraduate experience.
Through the Core Curriculum, more than 100 majors and concentrations, the University's great resources and our hundreds of global, internship and research opportunities, "we're preparing students to flourish in a world that neither we nor they can yet know," said Valentini. "We want our students to internalize the values they learn in the Core — of character, integrity, honor and respect — and to build upon them as critical thinkers, active and engaged citizens, and responsible community members."
Your engagement with the Columbia College Alumni Association makes you part of what makes Columbia College, as Valentini says, "the greatest college in the greatest university in the greatest city in the world." So whether you mentor current students, interview prospective students, attend events or contribute to the College's fundraising campaign, Core to Commencement — thank you for your participation and support of alma mater.